Your Ultimate Guide to Prepare for the Current Affairs Section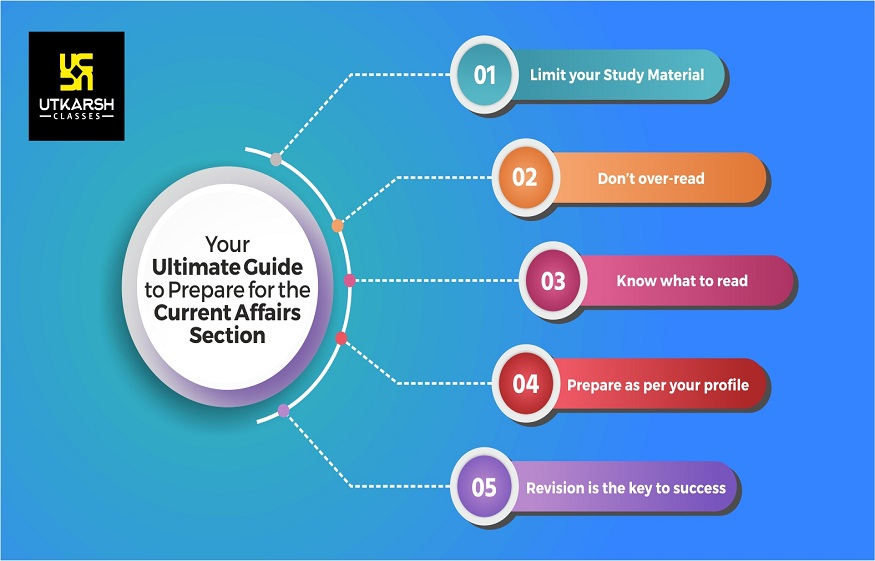 The current affairs section is the spine of any exam out there, whether it is a government exam or a private one. Every job position and college admission requires you to have sufficient knowledge about what's happening in the world around you.  However, since current affairs are such a vast and never-ending topic that many candidates fail to cover it properly.  Current Affairs play a very prominent role in not just exams but group discussions and interviews too. Students can follow  online current affaire classes infact they are freely available on youtube channels.
6 ways to prepare current affaire –
However, many candidates face a lot of issues while preparing for the current affairs as they do not know where to begin with. This makes them lose a lot of their time and effort and still yields no good result. The students feel lost and unguided when it comes to the preparations of the current affairs section of any exam.  Therefore, to help the students with their current affairs preparation, we have prepared a guide for students which will help them know how to stay updated and prepare for the current affairs section of their exam.
Limit your Study Material.
Some candidates feel that the more resources they have, the more knowledge they will gain. In this haste, they keep on collecting various current affairs magazines, subscribe to several newspapers, and keep on browsing the internet all day so as to squeeze out as much information as possible. However, this only harms the preparation as the candidate might not have enough time to cover all the resources and end up being confused about which one to refer to. This can prove to be counterproductive in terms of preparations. The students should ensure that they stick to a few reliable sources of information and choose quality over quantity. The students can ideally refer to one English newspaper, one daily compilation (available online), a monthly compilation (available online), and refer to authentic government sources such as the All India Radio for the official news. Do not stick to having an ideal way of collecting information because this idealistic approach can hinder you from making even the slightest progress.
Don't Over-read
The biggest issue that the students face is giving more time than required in reading newspapers and other such sources. Many students spend 3-4 hours a day and try to cover each and every detail in the newspaper which is definitely overkilling. Ideally one should not be spending more than 2-2.5 hours on current affairs as it leaves you with no time to study other subjects. Your mind needs rest too and loading it with excessive information will do more harm than good.  Be a selective reader and know what to read (explained in the next point).  Do not try to mug up what you read. Try to make a timeline of events in your mind and understand how events follow one another rather than trying to learn and remember the dates.
Know what to read
As mentioned in the above point, the candidates must refrain from over-reading; but the question arises, "What exactly should I read?".  Read the issue, not the news. For example,"Union Finance Minister Nirmala Sitharaman announcing the 20-lakh crore stimulus package is a piece of news but knowing what advantages it covers and who will be benefitted from it is the issue that you must know about." Try to know about the news by putting it in the following parameters:
Background Knowledge of the news
The current situation/ actions taken on the event
Multiple perspectives on the issue
Future scope for the issue/ what can be done/ how to resolve?
Prepare as per your profile
While the current affairs section in written exams is the same for all, the questions asked in the interviews can be based on your profile; therefore, it is very important that you prepare accordingly. For example, if you belong from a medical background and have an MBBS degree, you are most likely to face questions like "Where was the first plasma bank for COVID installed in India?". Therefore, one must be aware of the current happenings in their own backgrounds. You are most likely to be asked questions related to your location, your academic background, your interests, and your hobbies. You might also be questioned about the role you are being interviewed for.
Prepare Online Notes
It is very difficult as well as time-consuming to make handwritten notes for current affairs as there are several new topics everyday and writing each of them up will take a lot of time. However, preparing online notes can be very beneficial for students as they can highlight the important points on the website itself and keep them saved in the forms of notes. There are many tools available online which can help you in preparing such notes— one of the most popular is Evernote. Use this tool to your advantage and make online notes for yourself which can be accessed anytime from anywhere.  This will help you to keep an organized collection of important news which can you can go through later and revise easily.
Read more: The shortest way to the fastest career growth: A business management course
Revision is the key to success.
Just like all the other subjects, current affairs too, require revision. Revising helps you retain the information that you have read for a longer time thereby helping you to remember more. Current Affair is a topic that keeps snowballing, i.e., it keeps on increasing every day.  The best way to remember it by doing timely revisions and practicing to write out everything that you remember.  Try to revise by making a timeline of events in the manner you remember them. This will help you in brushing up your memory and give and added benefit as you are also practicing for writing long answers which is important while you are giving any competitive exam.  Current affair is a dynamic segment and only dynamic revisions and dynamic practice can help you ace it